The blues machine on the road
Anthony  studied with accomplished drummer Moe Potts (drummer for Johnny Winter, Rod Price of Foghat, The Laughing Dogs, and even Michael Bolton).  Anthony now resides here in the Hilton Head/ Savannah area, and he says that "Playing in The Royal Blues Machine is the musical culmination of having great players and authentic soulful blues all wrapped up into one amazing band!!!"

Eddie Boys
After a full time career as a bassist gigging in Georgia, Texas, California and Indiana, Eddie went into the fire service and took a break from music.  Now he's back, and after some time playing with friends and bands in the South Carolina and Georgia area he recently joined Anthony in the rhythm section to keep Royal Blues Machine in the groove.
Music playback has been interrupted because your Qobuz account is currently being used on another device [?] .

We remind you that your account is strictly personal and cannot be used on several devices at the same time.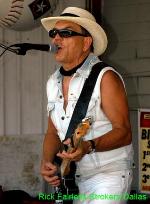 alcdd.southerncross.us